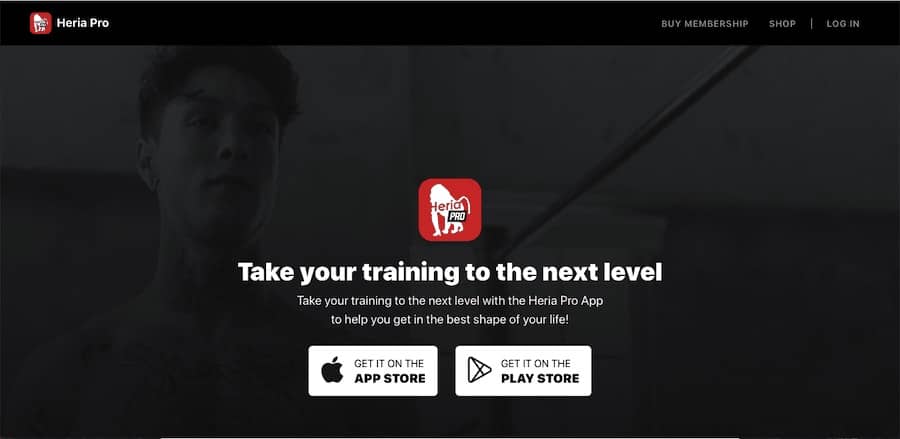 I've been testing a few fitness apps lately and one that I really like is the Chris Heria Pro app. Unlike other fitness apps, the Chris Heria app works with a subscription payment model. How much does the Chris Heria App Cost:
The Chris Heria app costs nothing to download but if you want access to all the features it costs $11.99 a month or $119.99 a year. If you choose the yearly subscription option you receive a 20% discount, equivalent to two months of using the app at the price of a monthly subscription. A subscription to the Chris Heria Pro app can be cancelled at anytime and comes with a 14 day money back guarantee. The Heria Pro app price is slightly higher than the Thenx app price. The Heria Pro app cost is justified by better functions and workout guides than in the Thenx app. The Chris Heria Pro App is available on the Apple App Store and the Google Play Store.
When Will I Be Billed for the Chris Heria App?
You can choose to pay for the Chris Heria app on a monthly plan or a yearly plan. 
The monthly subscription will bill your account $11.99 every month on the same date you originally subscribed. If you purchased your subscription to the Chris Heria Pro app on the 14th, you will be billed on the 14th each month.
The yearly subscription will bill your account once per year on the same calendar day that you originally purchased your subscription.
Can I Stop Paying for the Chris Heria App at Anytime?
It is possible to cancel your subscription to the Chris Heria Pro app at anytime during the month or year. If you cancel your subscription your access to the app will end at the start of your next billing cycle.
How to Use Heria Pro App
The Heria Pro App takes your training to next level. It contains a collection of workout plans that you can follow. Alternatively, you can build your own workout plans using the app, or let it generate a workout plan for you based on your goals and physical information.
When you log in for the first time the app will ask you to input some information, such as your sex, your height, your weight, your fitness level (newbie, beginner, intermediate, etc.), your goals (to lose weight, gain muscle, build strength, and so on), and your current performance (how many pull ups you can do, for example).
Once past the setup phase you can start building your own workout or following the ones Chris Heria has made for you.
Using the App you can track your training history and your performance during each workout.
Is the Heria Pro App Worth It
As a tool for keeping track of your workouts the Heria Pro app is as effective as any fitness app I've seen. 
The wide range of ready made workout programs will help guide your training if you don't know how to build an exercise plan for yourself. And if you do know how you get always get some inspiration form them.
The programs include a muscle up program for all levels, a weight vest program, a handstand program, a six-pack abs program, and a woman's program among many others.
Many of the workout program presets are used by Chris Heria himself, while others have been developed by Chris while working with private clients. They have been accumulated over the past 10 years – and you now have access with just the tap of a finger on a smart phone!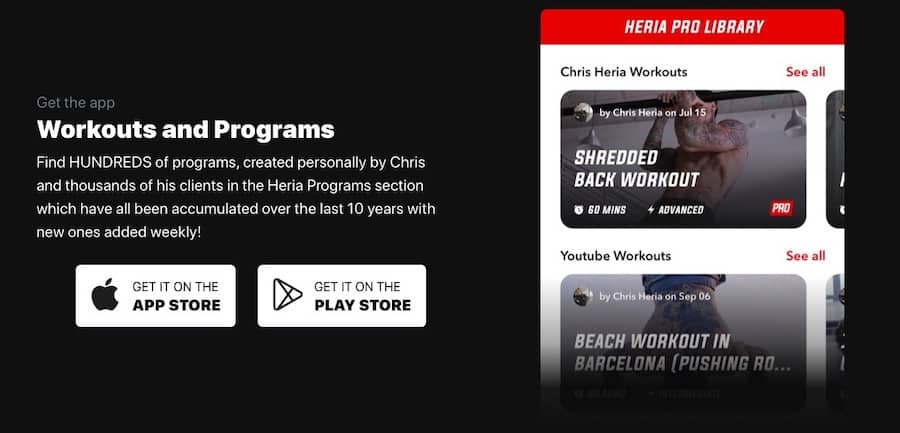 To get access to this premium content you need a subscription and the big question is whether you find the Chris Heria App cost is justified considering the features it has.
At $11.99 per month, the Chris Heria App isn't exactly cheap. A subscription to Netflix or Spotify only costs $9.99 per month and they give you access to heaps of content.
Still, $11.99 per month is a lot less than the cost of a gym membership, and a whole lot less than paying for private, one-to-one calisthenics training with a personal trainer. Let alone paying who-knows-how-much to hire Heria himself.
If the app helps you get to the next level with your calisthenics and achieve the workout goals you have set for yourself then surely its price is justified.
What do other users think? Users of the Heria Pro App have rated it four and half stars in the Play Store – the ranking is based on over ten thousand reviews.
Meanwhile, four thousand users reviewed the app on the App Store giving it an overall score of 4.7. That's pretty decent.
If we are to believe app store reviews, the Heria App is making a lot of workout enthusiasts happy.
Heria Pro and Thenx App: What's the Difference?
Given that Chris Heria is part of the Thenx School of Calisthenics I was wondering what the difference is between the Chris Heria Pro app and the Thenx app.
I discovered that the Thenx app is much more focused on calisthenics, the skills, the technique, and advancing from beginner to calisthenics pro.
The Chris Heria Pro app, on the other hand, gives you access to Chris Heria's personalized workouts and all the fitness knowledge he has gained during the last 10 years.
In a sense, the Thenx app is traditional calisthenics. Very broad. While Heria Pro is more, well…more Chris Heria, shall we say.
It's hard to say which app is better. It depends on your goals. What we can say is that the Heria Pro app costs more, but it is also newer.